At some point I need to admit that Mega Man is dead. Other people already have: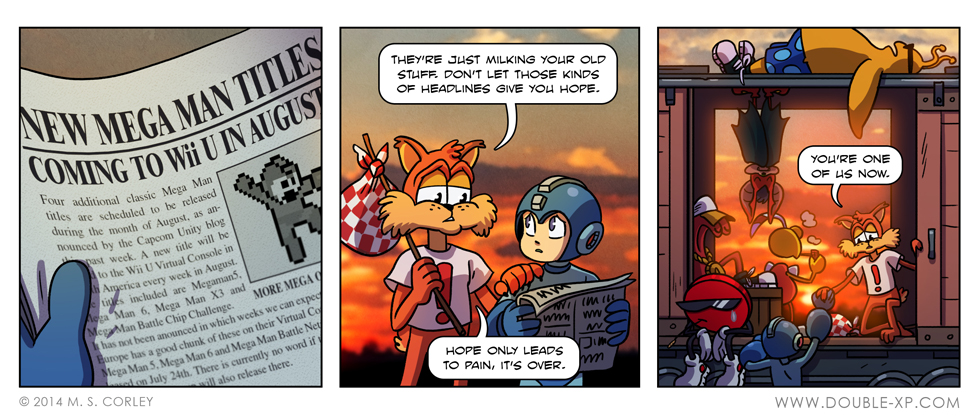 Thankfully, other companies are picking up the slack. Inticreates continues to put out action-platformers even though they aren't tied to Capcom, and the latest project from them is Azure Striker Gunvolt for the 3DS. It's a bit different from the games you might be used to. Gunvolt does have a dash and a wall jump, but the mechanics of the dash are a bit different than Mega Man X. Also, while GV has a gun, it does very little damage. The primary purpose is tagging things, which can then be zapped with electricity. The "Flashfield" damages things near you a small amount, and anything you've locked onto a large amount. To go with this, you have an energy meter that depletes when you use it, or if you get hit while not using it (getting hit while using it decreases your actual health). Depleting it completely will lock you out of things that use it for a few seconds, this includes it taking damage for you.
This causes the game to play somewhat differently in practice, as you can't really kill things with primary fire. The fact that taking damage is a multi-step process also makes the game a bit easier than the Zero and ZX games that this takes after in looks. It makes up for this with a somewhat complicated score system in which you build a bonus and can "cash in" by either hitting a checkpoint or using a special attack. This bonus is lost if you're hit, whether you take damage or not. Time is also a factor in the score, and the game grades you on how well you did. Outside of the levels, you can use materials and currency to get abilities in the form of equippable gear.
I'm only about halfway into the game (and much less than halfway done, since there are many challenges for levels I've beaten that I haven't met). I really like what I've played, and if the second half maintains the quality of the first I'll highly recommend this one.
Bonus content: The game comes with an 8-bit demake featuring GV along with Beck from Mighty No. 9. This is kind of like the "Model a" mode in ZX Advent, and I'm guessing it was thrown together after finishing Gunvolt before work starts in full on Mighty No. 9. It's quite fun, and Beck controls a lot like traditional Mega Man, so it feels really familiar.
One more day of Blaugust, more posts can be found here.