Almost a year ago, Sony Online Entertainment revealed their grand voxel-based, user-generated-content-driven, trinity-abolishing new MMO, going by the name of EverQuest Next. The reception was mixed, mostly because it looked to repeat problems in things I mentioned earlier. Also, people who liked the lore of Norrath weren't exactly in favor of a reboot. They also announced their builder for EQ Next, called EQ Next Landmark at the same time.
Since then, it hasn't been all sunshine and rainbows. Less than a month after SOE Live, layoffs were announced. EverQuest Next Landmark was supposed to enter alpha in December but was delayed until February. Shortly after that, it was stripped of its EverQuest Next branding entirely, and is now just Landmark. So what happened to EverQuest Next?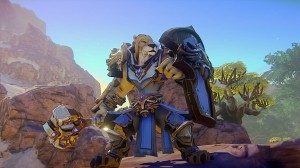 Missing: Presumed Lost
I have a very strong suspicion that EverQuest Next in the previously demonstrated form is vaporware. E3 and PAX East have both come and gone with hardly a word. It's scheduled to be talked about at this year's SOE live in about a month, but more time is being given to Planetside 2 and Landmark than EQ Next. The Social Media accounts are still active, but I haven't seen anything that comes close to "Gameplay" since last SOE Live.
What I hope is that they went back to the drawing board on some things. Roles (defined by class or not) are important, and I hope they don't abandon them. Going with a Guild Wars 1-like ability system is a good thing in my opinion, but lessons should be taken to avoid the mistakes made by other games tweaking the formula. User Generated content is cool (and as seen in Neverwinter and Little Big Planet, can be quite impressive) but having professionally designed content is necessary to get people interested. A destructible world is cool, but not if it results in everyone but the first wave playing in rubble.
EverQuest Next looked like a potentially cool game with a lot of issues. I hope when it resurfaces it's something I'm interested in, but it might just end up being a game that's not for me.