Since functionally quitting WoW during Cata, I've been a bit of an MMO nomad, wandering from game to game, looking at all of the shiny. Game companies have been more than happy to cater to this, offering plenty of new shininess at launch, and then eventually wearing out until I left. My relationship with all of these games isn't the same, however. There are some games I'll probably never go back to*, and some that I left on relatively good terms for some reason or another. Final Fantasy XIV is a game in the latter category. The group I was playing with gradually started playing it less and less, until eventually I stopped too. Also, FATE grinding was kind of terrible.
We Miss You!
Last weekend (Friday-Sunday) was a welcome back weekend, allowing previous players to log in without renewing their subscriptions. I patched the game up on Friday, even though I didn't get a chance to play until Sunday due to the insanity that last weekend was. Apparently, Square has been quite busy since we left, and there's a lot of content. The Duty Roulette (still the funniest and most accurate name for that concept I've seen) provides a way for players without pre-made groups to obtain decent rewards. Beast Tribe dailies provide other sources of XP and potential cosmetic rewards. There's a really awesome bribe for tanks to do 8-man content (although it's a bit grindy). In short, there are plenty of things to do, both with a group and without.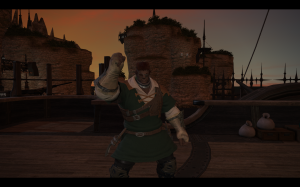 Instead of doing any of that, we ran an instance we were somewhat familiar with from before, Wanderer's Palace. Just seeing this place again was enough to make me remember that I like playing this game. It's WoW-style combat, but a bit more relaxed (mostly due to the much longer GCD). It doesn't have my favorite character archetype, but it does have a pair of tank classes that I enjoy. It's extremely pretty, and it's one of the few games that I have a level-capped character in. Also, some of the music is awesome.
Happy Returns
I suppose you can congratulate Square Enix on a successful marketing promotion, because It got me to resubscribe to FF14. Unfortunately, the game to drop by the wayside here is WildStar, because not enough of the group I'm interested in playing with got into it. Once the new shininess wore off, I'm left with the same feeling I had before, that I want to like the game more than I actually do. Maybe they can have their chance to win me back later.